A roof is one of the most important features of any building. Making the right choice of roofing materials can mean a difference of several years and several thousands of dollars. Quality roofs simply last longer and endure the elements better, which saves you money on unexpected repair and replacement costs. Similarly, hiring one of the best roofing companies in Tampa for roof installation or replacement is a smart investment sure to pay off.
But which is the best type of roof for your South Florida home or business? While some popular roofing materials are satisfactory nationwide, South Florida conditions have their own particular challenges. So, if you're on the hunt for new roofing materials, make sure you only shop for materials designed to handle the intense summer sunlight, hurricane winds, and other local elements that could damage an inferior roof.
Consider the following guide to select a great roof. These are the hardiest, longest-lasting, and most stylish roofing material options for South Florida homes and businesses.
Concrete Tile
Concrete tiles are a recent development, and in fact, many homeowners are unaware that this an option at all. Affordable and hardy, concrete roofing tiles are beneficial for many reasons. They're resistant to water and heat. They're heavier than asphalt shingles, so they're less likely to blow away during hurricane-force winds. If they're maintained well, they can last about 50 years!
They do have a very modern look that may not suit your home, and not all residential roofing contractors in Tampa carry them, but they're nonetheless a great roofing option. Ask your roofer about the styles they carry; some concrete tile colors and styles mimic more old-fashioned materials and can suit traditional buildings nicely.
Clay Tile
A stylish Mediterranean import that's emblematic of South Florida's most stylish homes, clay tile roofs are a great choice for your roof. Clay tiles are heavy and long-lasting, and they resist some of the most common causes of South Florida roofing damage, including salt, a common problem for coastal structures. Clay tiles are forged and dyed in intense heat, so they can certainly handle local heat and UV sunlight without fading or cracking./p>
South Florida conditions also promote large insect populations, and thankfully, clay tile roofs are also bug resistant. Clay is too hard and dense for termites, ants, roaches, or other destructive insects to burrow into them.
Clay tiles are heavy, so you'll need to hire residential roofing services in Tampa to reinforce your roof, but you'll have a dense and hardy roof that resists South Florida hurricane winds. Care for your clay roof well, and it can last more than 50 years!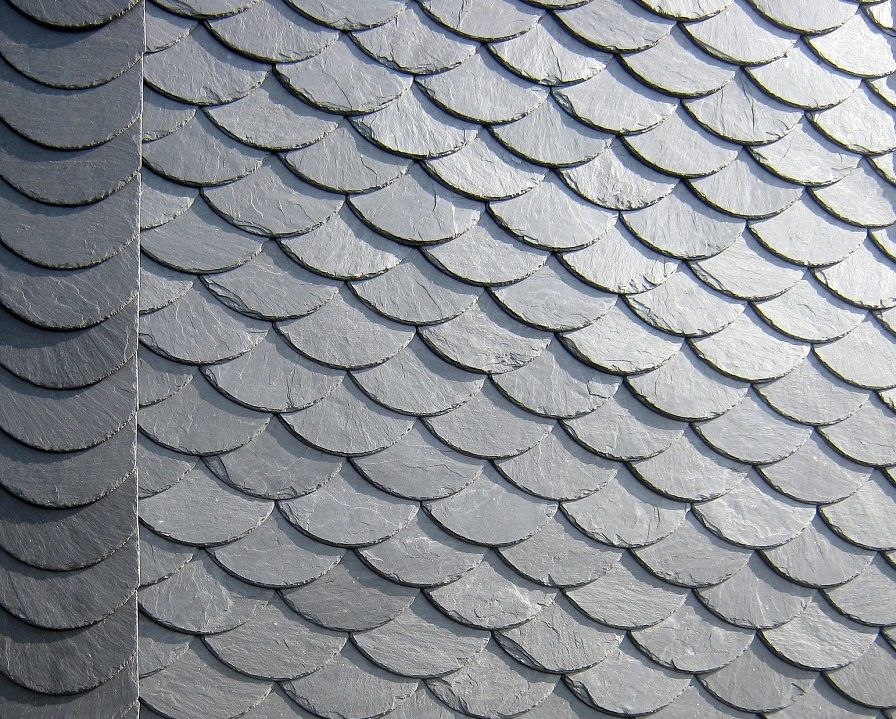 Slate
A beautiful, natural material, slate is a premium choice for residential and commercial roofs alike. It has a versatile style that can suit a variety of structures, and it also happens to be incredibly resistant to South Florida challenges. For instance, slate is resistant to both fire and water. It won't be damaged due to humidity, either. As with clay tile roofs, slate is heavy and needs a strong structural base. However, if installed properly, it should last a very long time. However, hail does have the potential to damage slate if you install thin tiles. Thankfully, hail is uncommon in South Florida.
Slate has long been used to build superior roofs, and it may still be the longest-lasting material out there. A well-maintained slate roof can last for more than 100 years! You could potentially go through 5 or more asphalt roofs in that amount of time!
Metal
One of the most popular roofing options, metal roofs—steel roofs—are hardy and long-lasting. They can withstand intense winds and are insect and salt resistant. When coated and finished properly, metal roofs can also withstand direct moisture and humidity, essentials for enduring South Florida conditions. And while you'd expect metal roofs to retain and conduct heat in the intense South Florida sunlight, metal roofs actually reflect sunlight, making it an energy-efficient option too. Metal roofs are low-maintenance, and the lack of individual shingles means that you won't have to worry about loose or missing pieces.
It's modern, sophisticated, and available in a wide range of styles and colors too. Some styles can be on the pricier end, but since a metal roof lasts on average about 50 years, your investment will go far.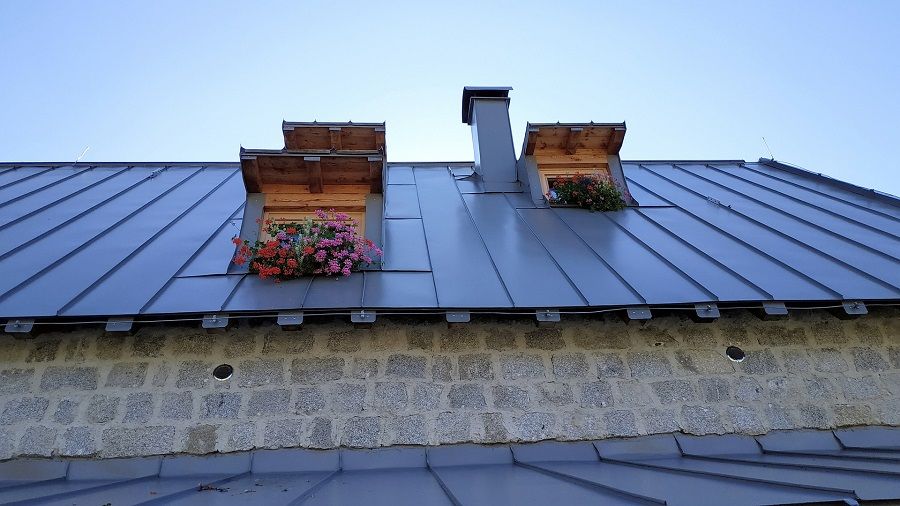 Flat
A modern staple for commercial structures and a recent trend for contemporary homes, flat roofs are designed for convenience and hardiness against the elements. They're cheap to build and can even house appliances, such as AC units. Reflective and waterproof coatings improve resistance to sunlight and moisture damage respectively, and flat roofs can also resist mildew growth. A properly installed flat roof will have a mild slope to drain moisture as well. Best of all, because flat roofs aren't made with individual shingles, there's nothing for the wind to blow away! A concrete or rubber-based flat roof bonds and holds in place for a long time.
However, flat roofs are style-limited and provide little curb appeal. Its simplistic appearance may not be appropriate for your home, and you may prefer one of the above, more decorative roofing options.
The Best Roofing Installers
A superior roofing material means little if you don't have one of the best roofing companies in South Florida to install it. That's where Latite Roofing and Sheet Metal comes in. As an experienced Tampa roofing contractor, we can source and install your roof with superior results. We don't just install roofs either. Call us for roofing replacements, repairs, annual maintenance, and more. We provide roofing services in Tampa, Fort Myers, Naples, Bonita Springs, Miami, West Palm Beach, Fort Lauderdale, and the surrounding areas. If you want one of the best roofs in South Florida, call Latite Roofing and Sheet Metal today to get a quote.
We provide roofing services in Tampa, Fort Myers, Naples, Bonita Springs, Miami, West Palm Beach, Fort Lauderdale and surrounding areas.