There might come a time when you need a new roof installation on your Miami home. Although roofs have a long life span, they aren't meant to last forever. In some cases, it makes more economic sense to replace the entire roofing system than to continue to repair it. When you're going to replace your roof, it helps to know what options are available to you. Latite Roofing, a roofing company in Miami, offers a wide range of roofing materials and styles, so you can choose the one that's just right for your home.
Asphalt Shingles
If you were to take a look at the majority of homes across the U.S., the odds are likely that what you'd see on the roof are asphalt shingles. Asphalt shingles can have a life span of up to 50 years, making them an economical and smart choice for many homes.
Another feature that makes asphalt shingles appealing for many homeowners is their flexibility and customization options. The shingles come in a wide range of colors, so you can easily find one that matches your home's style and that complements the rest of your home's exterior. Asphalt shingles are also available in several types.
The most basic type of asphalt shingle is a strip or three-tab shingle. Three-tab shingles are flat and consist of three, 12-inch tabs connected to each other. They tend to be the most affordable option, but also have a shorter life span and less wind resistance compared to other options.
Architectural shingles, sometimes called laminate or dimensional shingles, create a raised, 3D look on a roof. They are often made to mimic the design and appearance of wooden shingles. Dimensional shingles cost more than three-tab shingles, but also have a longer life span. They can usually better withstand strong winds and storm damage, too.
Clay or Concrete Tiles
When you picture a classic Miami home, what comes to mind? You most likely see a house with a red tile roof. If you're hoping to work with a roof restoration service in Miami, you might consider replacing your existing roof with those iconic tiles.
Looks aside, there are many reasons to choose round-topped clay or concrete tiles for your new roof. Tiles are very wind-resistant and can stand up to hurricane-force winds. They are also hail resistant and have the best fire-resistance rating.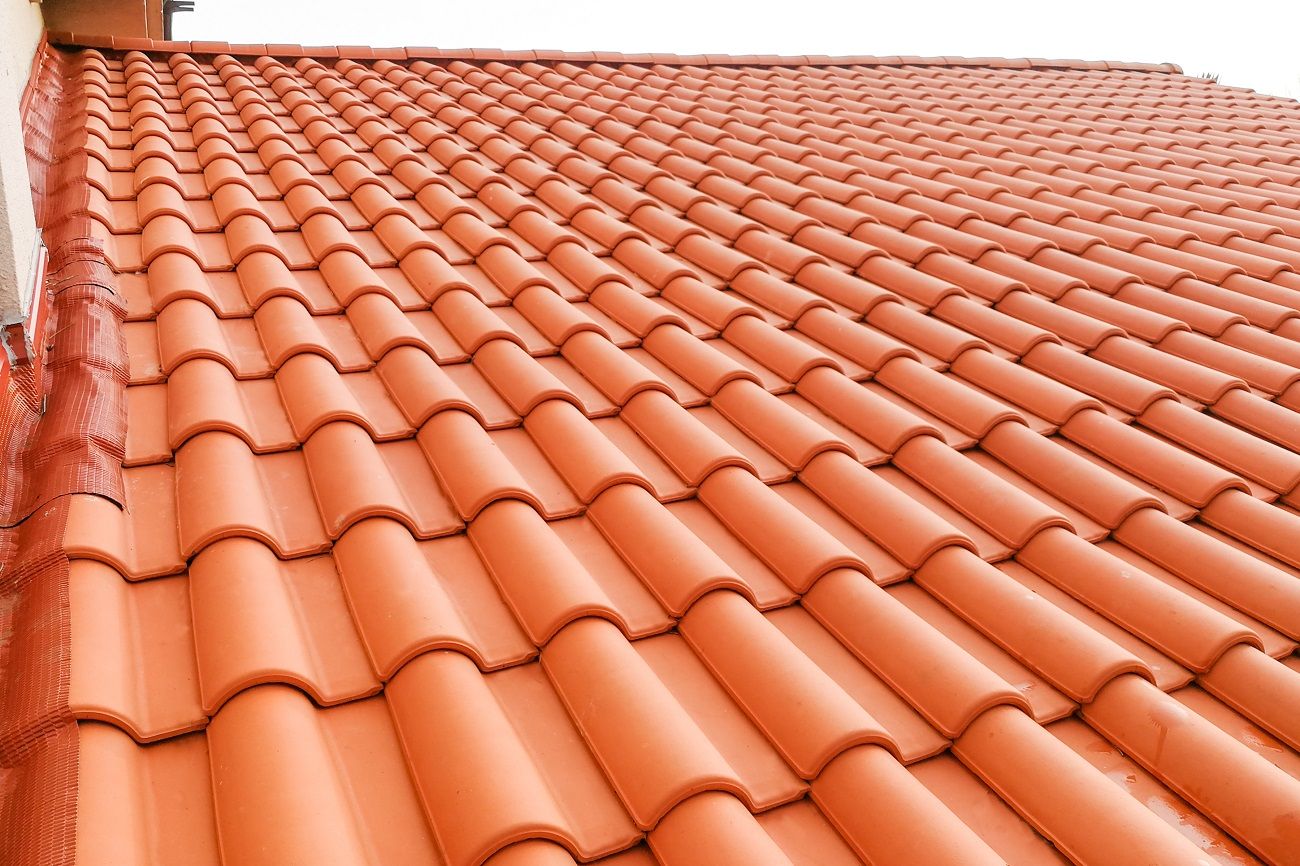 If you end up needing tile roof repair in Miami, you can rest assured that tile roofs are among the easiest to patch up. Since each tile can be removed on its own, a roof repair company can simply take out the tiles that are damaged and replace them with new ones.
There is one thing worth noting if you're considering replacing another type of roofing system with a concrete or clay tile roof: Tile is very heavy. As part of the replacement project, your roofing company might need to reinforce your home so that it's able to support the weight of the new tile roof.
Metal
Metal roofs offer Florida homeowners a wide range of options. You can find metal roofing materials that are designed to imitate the look of shingles. Metal panels are also available, which create a classic, 18th-century look on a home.
Metal panel roofing is also sometimes called standing seam. A metal roof is easy to maintain once installed and is able to stand up to strong winds. While metal roofs do tend to cost more than other options, such as tile, their long life span (in some cases up to 70 years) and ease of care often makes them a worthwhile investment.
Flat Roofs
While many homes in Florida have steep roofs, flat roofs are also fairly common. One of the great benefits of a flat roof is that you can build a deck on it and use it as a place to hang out and enjoy the Florida sun.
Materials for flat roofs are considerably different than those for steep sloped roofs. Two of the most commonly used options include single-ply membranes and SBS modified bitumen. Each option offers a wide range of choices, including a choice of color and material makeup.
Often, a home will have a combination of a flat roof and a steep roof. For example, a Florida home might have an attached sunroom with a flat roof while the rest of the structure has a steep-sloped roof. A detached structure, such as a shed or guest house, might have a flat roof while the main home has a steep-sloped roof. If your home has a combination of flat and steep roofs, you might want to choose materials that coordinate with each other.
Is It Time for a New Roof?
How can you tell if it's time for a new roof installation vs. a simple roof repair? There are a few signs that it's time for a new roof. The type of roof that's currently on your home and its age can help you determine whether it's better to replace or repair it. Usually, a flat roof or roof with asphalt shingles is due for a replacement around the 20-year mark.
A visual inspection of your home can also help you determine whether it's time for a new roof or not. If you look in the attic and see signs of leaks and water damage, your roof is most likely worn out and in need of replacement. Also take a look at the roof from the outside. If it's an asphalt roof, are the shingles nearly stripped bare? Are they peeling upwards? If so, a new roof might be in the cards for you.
A professional roofing contractor can help you determine whether your roof is due for replacement or if it's just in need of a few simple repairs. When it's time for a new roof installation in Miami, call on Latite Roofing and Sheet Metal. We've been serving residents of Florida for nearly 80 years. We're here to help you choose the best new roof for your home and to complete the installation in a timely and efficient manner. To get started, give us a call today.
We provide roofing services in Tampa, Fort Myers, Naples, Bonita Springs, Miami, West Palm Beach, Fort Lauderdale and surrounding areas.